As in previous years, this year the teachers and associates from the Department of Chemistry achieved remarkable results and were awarded by the University of Banja Luka for the achieved international results in scientific research for the year 2021.
At the Conference of Awarded Teachers and Associates, held on November 11, 2022, prof. dr. Dijana Jelić was awarded. During 2021 prof. Jelić published three papers in indexed scientific journals of the highest category with a total impact factor of 16.25, which represents the highest total factor that has been reported so far in this competition.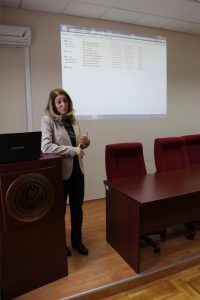 During the presentation, Professor Jelić presented her works, as well as guidelines and advices to young colleagues for easier publication of scientific works. In addition to Professor Jelić, awards were also received this year by prof. dr. Biljana Davidović-Plavšić for scientific work in a journal with an impact factor of 2.66 and prof. dr. Suzana Gotovac-Atlagić for work in a journal with an impact factor of 2.32.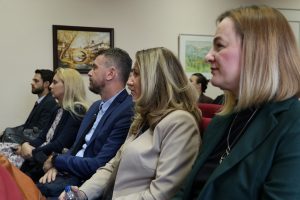 On this occasion, the first authors of the papers were awarded, and the overall scientific productivity of the Chemistry Department is significantly higher, with a total of 16 papers published in high-quality indexed scientific journals in 2021. In the category of awarded international projects, prof. Dr. Suzana Gotovac received the award for coordination, and prof. Milica Balaban, Ph.D., Sanja Pržulj, M.Sc., and Dejana Savić, M.A., for participating in the implementation of the project.